Sending Sleepwalker
Tenaya athlete Drew Ruana on his first V16 ascent in Red Rock Canyon, Nevada.
por tenaya
2023-01-17T21:26:44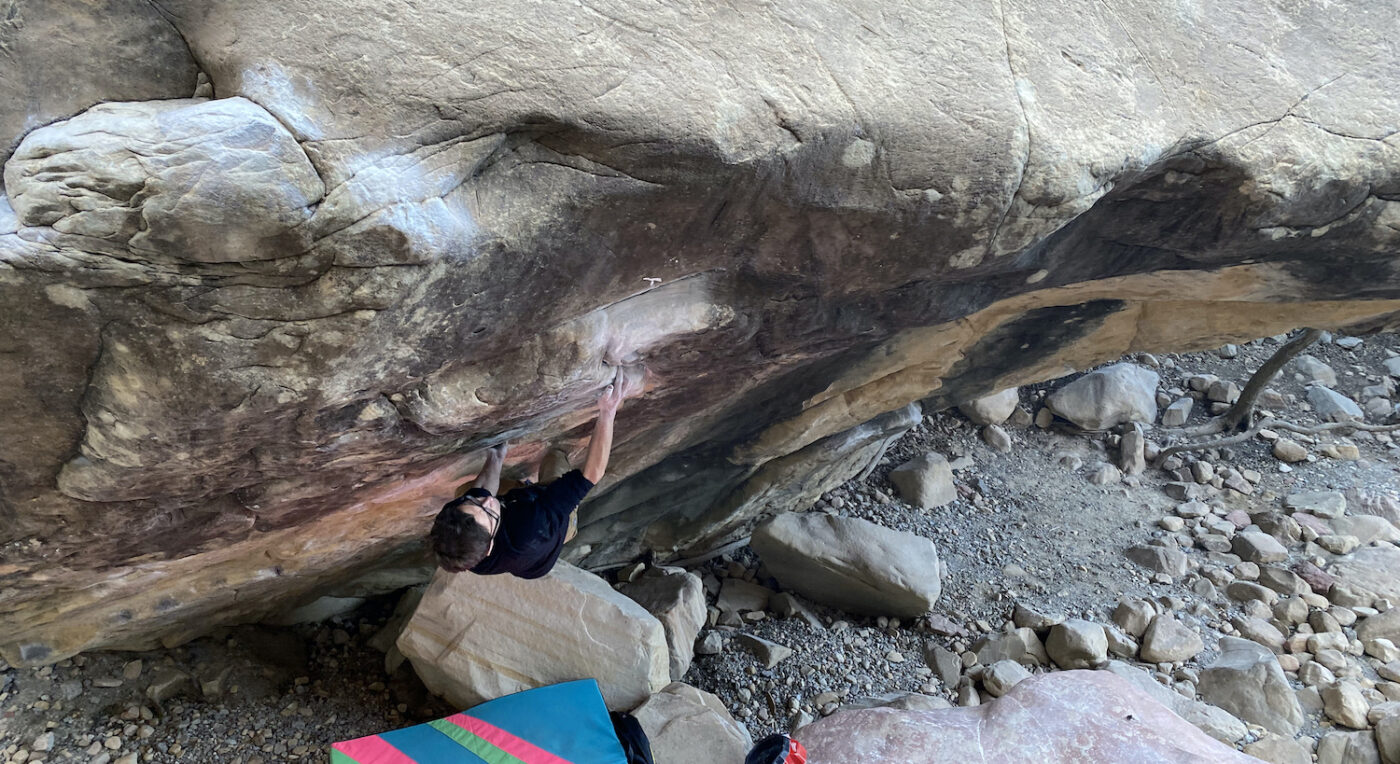 ---
As the days went by, my skin degraded—getting softer, thrashed. The combination of Red Rock, Nevada's dry desert air and abrasive sandstone grated off layer after layer until little was left. I had to tape my fingers just to prevent them from bleeding through.
It was January. I was trying The Nest (V15/8C), and the crux revolved around a shoulder-breaker, lock-off move from a two-finger, quarter-pad crimp. All I needed was time for my skin to heal. But after around five sessions, growing more and more frustrated that the climbing seemed out of my control, I shifted to Sleepwalker (V16/8C+).
Even though it seemed unrealistic at first, it was a dream line, and I was attracted to the bloc from the moment I saw it. Every hold and movement felt perfectly sculpted. The moves were harder, but at least I could suss them out with tape on my fingers instead of feeling helpless.
Since October of 2019, I've switched gears from plastic and comps to outdoor climbing. I saw my first V15 with Squoze in early November. From that point on I was stoked to be outside, applying the strength I had gained from competition training to the world of real rock. I started attempting more hard boulders, eventually sending another V15, Triste Sit, in Red Rock that December. When a few friends of mine were psyched to go back to Vegas in January, I had already begun to set my sights on more potential projects.
I played around with the idea of trying Sleepwalker, but V16 seemed over my head. I wanted to get a solid base of V14s and V15s before even attempting one. Since I saw it as a more acceptable project level, I started trying The Nest early in the trip. Then as my skin failed me, I thought, why not just take a look at Sleepwalker?
---
Uncut: Drew Ruana – Sleepwalker (V16/8C+)
---
By the second session, I'd figured out all of the moves, and realized Sleepwalker was very possible. I became methodical in my attempts. Every session I would try to start one move lower than I did the session before, and go to the top. I looked for tiny bits of progress, whether that was linking one more move below my low point or discovering new microbeta or better sticking the crux. This helped me stay stoked to get out to the boulder every day with every intention of giving it 100 percent.
When I set a new low point, climbing the problem from two moves in, as soon as I grabbed the jug that marked the end of the hard climbing, a mix of emotions came over me. Until that moment I felt as if I was still playing on the boulder, feeling out the moves without a solid chance of sending. So when I reached the jug, part of me was beyond stoked—I only had to link two more, easier moves from the start—but at the same time I knew it would be a war to finish.
The rest of the day I spent laying low, keeping my hands suspended in the air, covered in a concoction of ointments and salves to regrow any amount of skin. I decided to give it a Hail Mary the next day before I'd have to take time off for my skin to heal.
I hardly slept that night. I was too fired up. I spent hours in the dark watching videos of myself trying the bloc, rewinding the crux sections, and visualizing climbing the boulder. Around 4 a.m., I finally passed out, and I was immediately awake again at 8 a.m., ready to climb. The early afternoon brought the best conditions, I found, so then I had to wait all morning, trying to stay as stoked as possible.
On the hike up I could feel electricity in the air, a sensation I'd never experienced before or since. It was almost like I knew I was going to do the boulder, even before we got there. After warming up and two attempts, I was jittery and making small mistakes, so I spent a few minutes cooling off my hands and the holds with a fan. Then I pulled off the start and stuck the sloper for the first time. Then the next move. And the next. I managed to keep my cool and hit every single hold perfectly. Reaching the jug, I realized I had actually climbed Sleepwalker, a grade that seemed so impossible previously, yet so easy in the moment.
Standing on top of that boulder was a feeling I don't think I'll ever forget. V16 might just be a number, but this climb means much more to me. From it, I gained a better sense of my capabilities and realized what is possible. If you don't give something your best, you'll never know what your body and mind can accomplish.