An Eye on the Fish | Svana Bjarnason
Despite injury after injury, Svana Bjarnason manages to persevere and send her multi-year project Fish Eye (8c/5.14b) at Oliana, Spain.
por tenaya
2022-12-11T10:00:11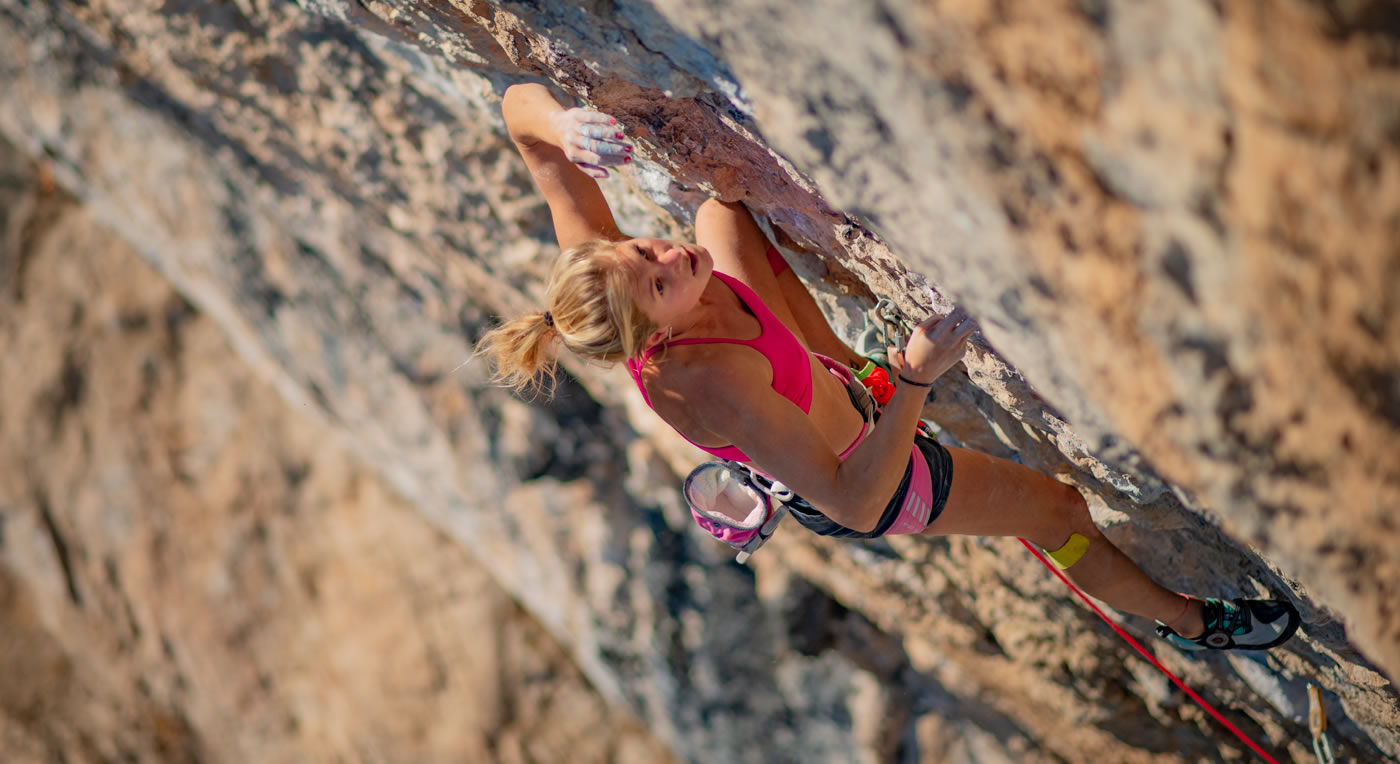 ---
The ascent is special to me, and not just because of the grade. It's more about the perseverance and the dedication I put in. It's about the struggles I overcame. It's about all of the adventures and the lessons the route has gifted me over these past four years.
DEDICATION
I tried Fish Eye for the first time in October 2017. I could do all of the moves right away so I knew I could send one day. I also knew that it would take a lot of work and investment, but I instantly felt psyched.
From November 2017 to April 2018, I went to Oliana five or six times. I was making good progress on the route—in April I fell at the top once—but the conditions were terrible. It was warm and humid and raining almost every day, and the top crux crimp was always wet. I knew I would have to be way stronger than I was to be able to send in such bad conditions.
So, I went back home to train and enjoy the French crags, and planned on going back to Catalunya a few months later. At that time, I was pretty confident I would send Fish Eye the next season. Then, on August 26, 2018, a diabolical vicious circle of bad injuries began.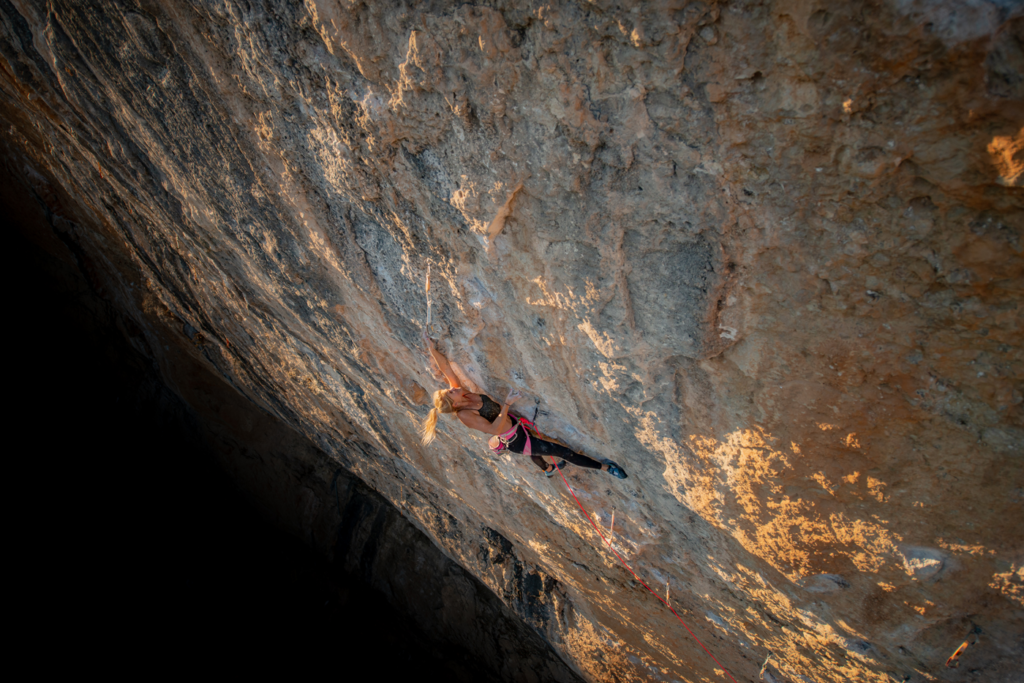 INJURIES AND STRUGGLES
On August 26, 2018 I was climbing on a beautiful 8b in La Hermida. On the crux move I suddenly heard a loud pop, and fell. Everybody thought I had broken a hold, but nope, it was my pulley.
I needed surgery to repair the ruptured pulley.
Then I fractured and tore ligaments in my foot, followed by a thrombosis, left ankle sprain, more ruptured ligaments and a damaged tendon in the right ankle (surgery), shoulder sprain, finger tenosynovitis, and finally damaged popliteal tendons in both knees, three times each.
In three years, I spent one month in a wrist/hand brace, two months with a finger brace, seven months on crutches, three months wearing support socks (in summer), one month with a shoulder brace, and two and a half months recovering at a rehab center.
As you can imagine, I didn't get much time to climb hard.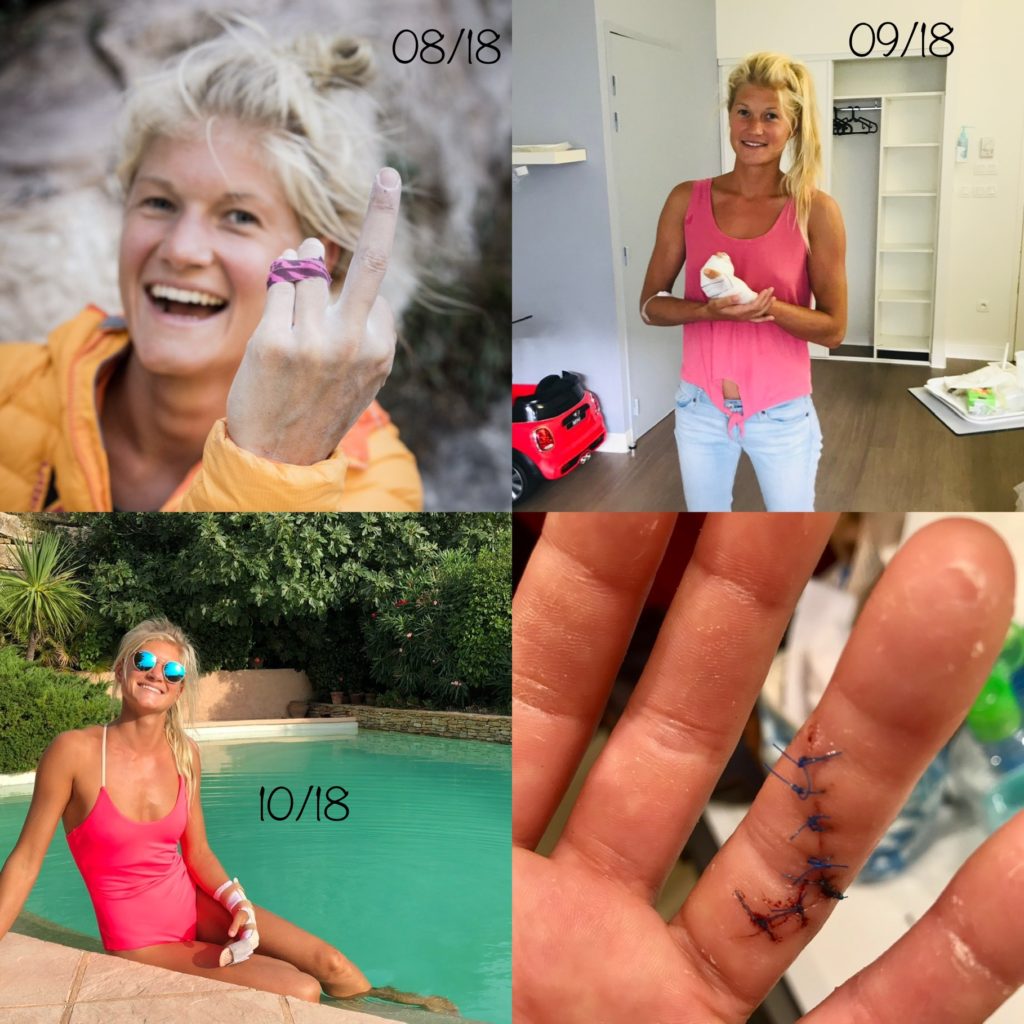 This year in particular has been pretty challenging. I had ankle surgery in May 2020, followed by three weeks at a rehab center. I started climbing again in August, five months after I ruptured my ligaments. Another stay at the rehab center in September and then I took a big step backward. I had to get 130 anti-inflammatory shots because I was limping again, and couldn't climb anymore.
I slowly hopped on the rock again in November 2020. January 2021, I still had trouble with the ankle and I sprained my shoulder after a bad fall while snowboarding. So, I spent the month of February at the rehab center, once again. At the end of March my operated ankle twisted again, and I damaged the tendons. In July, I damaged the popliteal tendon in my left knee. In September, I damaged the same structures in my other knee. Then in October, I got tenosynovitis in a finger.
Despite the seemingly never-ending sequence of injuries, on December 30, I still managed to complete my long-term project—and first ever 8c.
RESILIENCE—NEVER GIVE UP
I've never been a super strong climber. It's never been a gift and I will never be the climber who crushes the hardest routes in the world. But I'm trying hard to reach a certain level. Something you can't take away from me is that I've always been a fighter. I've always refused to give up, even when every six months I had to learn how to climb again, even when every six months I felt like I was back to square one.
In those moments, Fish Eye was always the light at the end of the tunnel. When injured, my motivation to recover well was not to simply be able to climb again. It was to climb strong, and even stronger than before because my goal was to reach a level I had never climbed before.
That is what helped me when I was in the ER not knowing what I had broken this time, when I was doing countless hours of PT sessions, when I was getting surgeries, when I was working my ass off at the rehab center, when I was trying to learn how to walk again, when I was getting anti-inflammatory shots, when I was crying because all I wanted was to be on a climbing wall.
That's why Fish Eye has been so important to me. It's what always kept my head above the water.
Many people told me I should give up climbing because I was always getting injured. So many said I was crazy to just focus on one route. I also know that most of them thought I would never be able to send it. And maybe they were right—maybe I was crazy to dedicate everything to one specific route. But in the end that craziness has brought me so much: incredible adventures, amazing people I'm proud to call friends, a new home, happiness.
Projecting this route made me learn so much about myself. It has brought me very low downs, but the highest ups. It taught me I do have strengths: a strong determination and resilience.
I doubted myself a hundred times these past years—my goals, my life choices, my decisions. But deep down I never stopped believing in Fish Eye.
SUCCESS AND HAPPINESS
On December 30, 2021, despite a very bad night, I woke up knowing it was THE day. I had a feeling. And it's funny because some of my friends told me they also had felt something this day. It was my fourth week in a row on the proj. Melissa le Nevé, who was coaching me, and I had been analyzing and adjusting every session because we both knew I was close to the send.
I went to Oliana quite late because it was insanely warm. We'd been having summer days and the crag felt more like a beach than a climbing spot. The goal was to warm up and have a go around 5:30 p.m., when the wall is in the shade but it's not yet dark. But I was just too excited to climb. I couldn't stay still. So, around 4:30 p.m., I decided I would have a "warm up go" in the sun. I started climbing, not expecting too much, and maybe that's why it worked.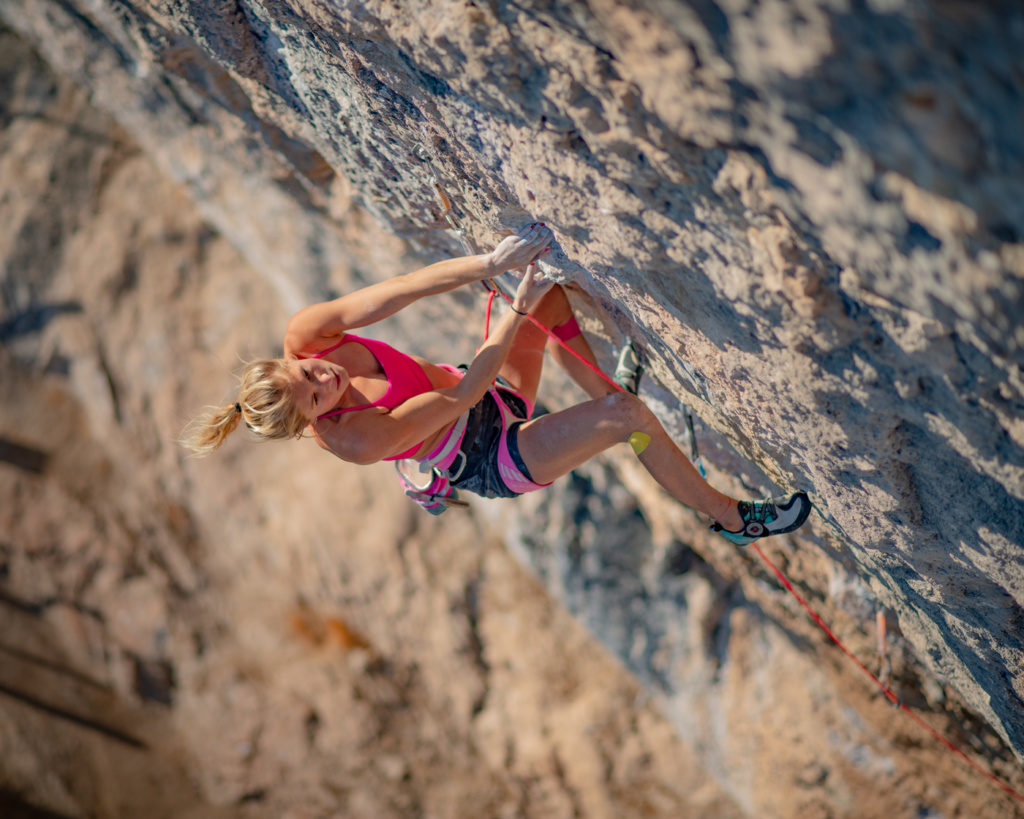 I almost fell on the middle crux because I missed a foot hold, then got pumped right away because I hadn't warmed up. I battled my way up to the final rest (below the top crux) and there, 45 meters above the ground, the first thing I told myself was, "Ok, nice, you've reached the top again. That's good enough considering the heat and the fact you were weaker on the bottom parts". I was ready to give up.
That's when I started to hear everybody cheering for me on the ground.
It was such a magical moment because all the climbers I had been sharing this adventure with were there for me, with me. Something switched in my brain and the mental game started. I decided to give it my all and not let go.
I almost fell on the crux move, but then activated the beast mode. I was so stressed up there I almost fell grabbing the jug next to the anchor. And I started crying before clipping. Then I felt a wave of emotions—I was so happy and proud I couldn't stop crying and hugging my friends.
So that's the story of Fish Eye. It was not the hardest ascent in the world, but definitely one I'll remember forever. If I learned anything from it, it's that you should never give up on your dreams. And I'm glad I didn't!