The Rocktrotter: Klemen Bečan
How the dedicated Slovenian climber makes the vagabond lifestyle work and the lessons he's learned from the road.
by tenaya
2023-01-17T17:53:35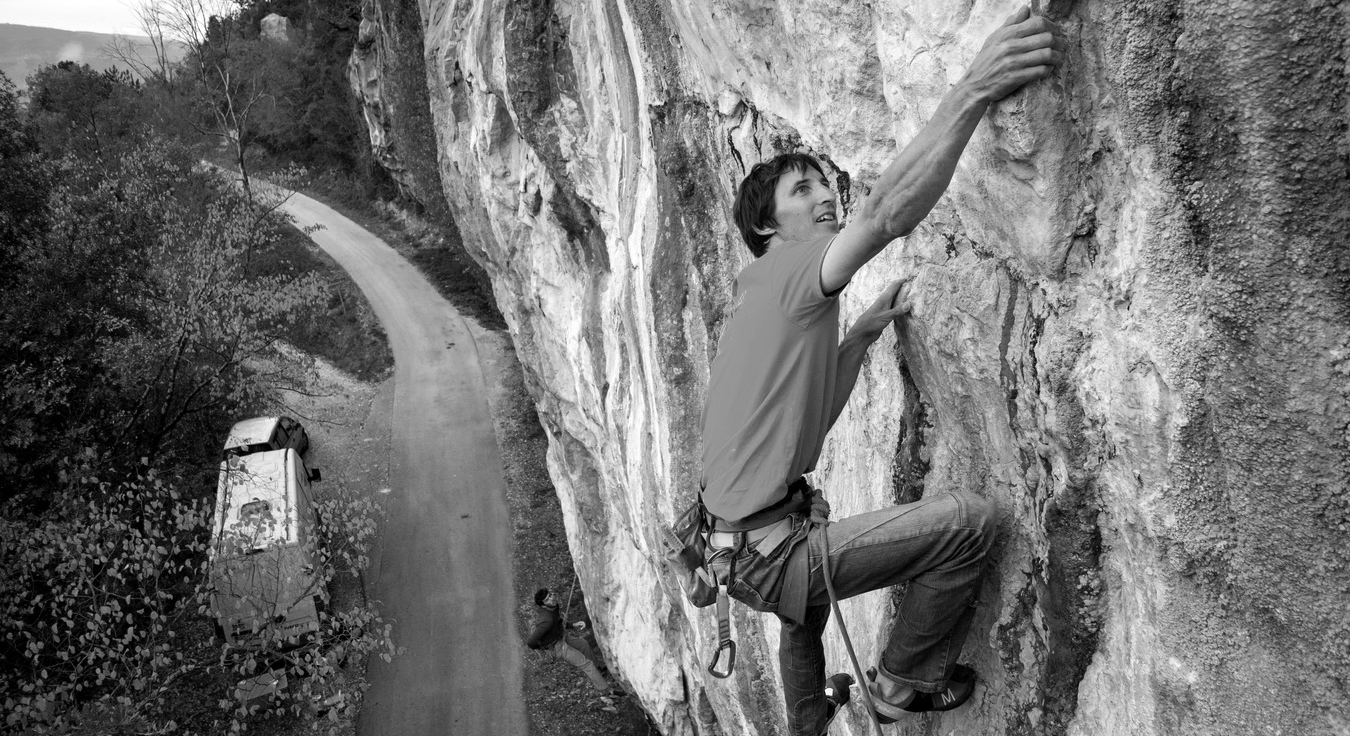 ---
Klemen Bečan is a climber to the core. Ever since his first taste of the sport when he was around 7 or 8 years old, the Slovenian knew this was what he wanted to do for the rest of his life, and he set aside everything else to make it happen.
From his humble beginnings on a school woody and castle ruins above his hometown, Bečan would eventually compete in local, then international youth competitions. At 15, he became the youth world champion. He continued to progress as a competition climber, even landing on a few world cup podiums, but his heart was always set on real rock.
Bečan bought a van and structured his life so that he could travel Europe and climb as much as possible. His rambling eventually brought him to Chulilla, Spain where in 2015 he made the first ascent of Siempre se Puede Hacer Menos (8c/5.14b)—onsight. The following year he made the first ascent of Joe Mama (9a+/5.15a), an open project in Oliana, Spain.
Nowadays, he's still at it and draws motivation from coaching other climbers and developing new routes.
After three decades of climbing and living on the road, the 38-year-old says he wouldn't change a thing—except maybe for a slightly bigger van. Here, Bečan speaks on his climbing roots, how he makes the vagabond lifestyle work, and the lessons he's learned on the road.
Q&A with Klemen Bečan —
How did you find climbing?
I started climbing when my school built a climbing wall. It was one of the first in Slovenia, and even though the wall was only eight meters tall and vertical, with wooden holds, after I tried climbing once, it was basically all I wanted to do ever since. I couldn't wait for the next climbing training. We each got to climb only once, maybe twice if you were lucky, in each session. Sometimes you didn't even climb because when it was your turn, you didn't get the harness and you had to go back in line. It was kind of crazy. But at the time it was new and we were still quite okay with it.
I was about 7 or 8 years old, so I started climbing around 30 years ago.
How did you grow in the sport from there?
We were climbing at school, on this wall, and then soon the coaches started to take us outside, as well. Above my hometown there were some old, ruined castles, and we would go up all the time to traverse along the base. Somebody would have to watch us—don't go too high, don't go too high—because the old stones could pull out and you could fall. But still, we survived without any big problems.
Then we started climbing at real crags, on top rope at first, and then on lead. The routes were not as nicely bolted as they are now, but it was fun.
The most important thing was that our parents were happy to drive us around anywhere we wanted to climb. For example, we decided, okay, tomorrow, your parents take us there. And you come home and say, ah, tomorrow, you have to take me there. Every week it was like this, and we were climbing a lot outdoors when we were kids.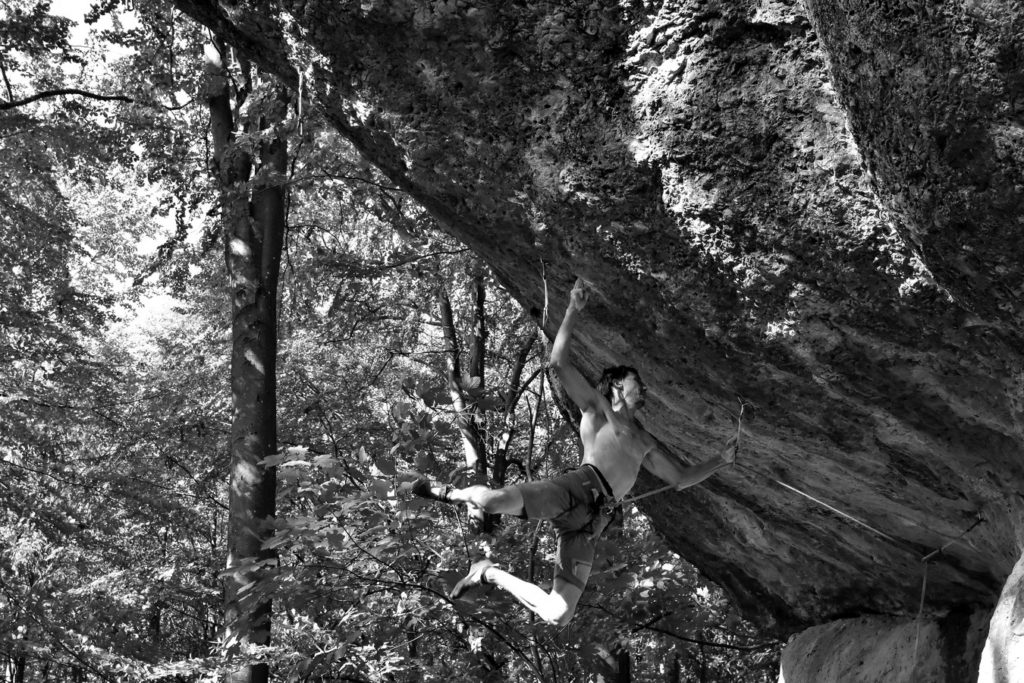 At the time, did you see it as a hobby or did you realize you could make a life out of climbing?
It was a hobby. My parents were happy that I was doing something—anything was better than just going to the bars, drinking, smoking, doing stupid stuff. They were happy that I was obsessed with this sport and being serious. Basically, it was just a healthy way to spend time, and since I loved it, they supported me all the way.
When did climbing evolve from a hobby into a career for you?
I started doing competitions with my school team, and little by little we were getting better results. Eventually, we entered the European youth series, and on and on and on.
At that time, we were lucky we could still climb outdoors and combine it with competitions. I don't know if that's possible anymore. Some people can manage it, but most comp climbers are so specialized now that it doesn't look so fun anymore.
How did you structure your life to be able to climb as much as possible?
Basically, I climbed and I put everything else to the side. I've been traveling ever since. And then I found a wife who likes traveling, as well. Of course, it was nice that we could share these trips together in the van. She doesn't mind if we go climbing somewhere for a few months. Sometimes she complains that we spend too much time in the van and she wants to go inside, take a shower, or something. But, yeah [laughs]. That's how it is sometimes.
Do you live full-time in the van, or do you have a home somewhere, as well?
We have a home in Slovenia, but this year we spent less than a month there, so far, and it doesn't look like we will return anytime soon because of the new lockdown. We escaped to Croatia and will probably continue our journey to Greece when it gets too cold here, then next year we'll slowly make our way back when the restrictions are over.
How is it being in the van with a young child?
Ah, it's good. Just now, he's sleeping in the van, and we're inside in the front section—just checking—yeah, he's still good. It's a small space, but when it's sunny, it's okay. You can go play outside and everything. When the weather is bad and we cannot go anywhere inside, it can be stressful.
We're super lucky that we have friends here and we can use their apartment from time to time to play inside, like normal humans, and then we go back to the van.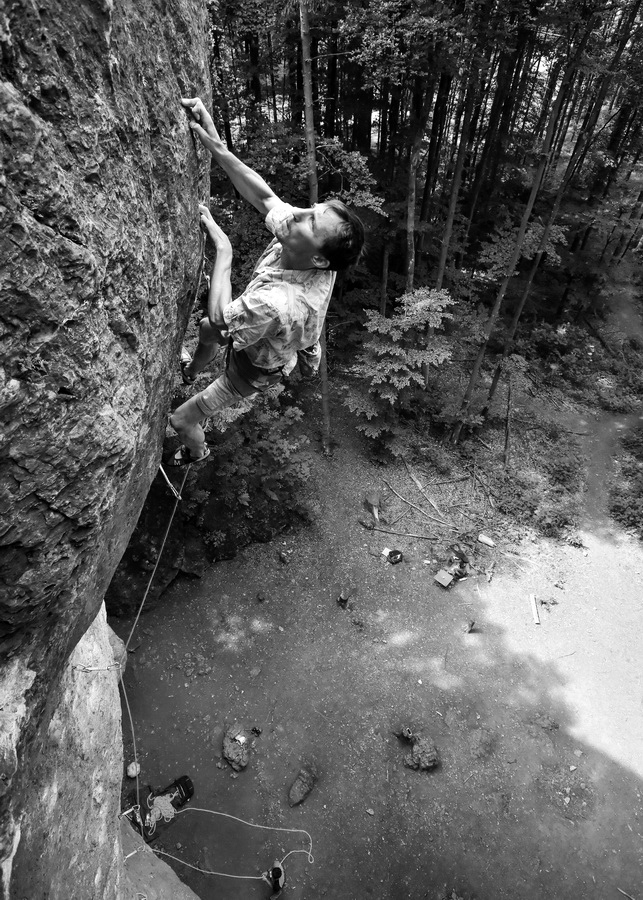 Have you made any sacrifices in your pursuit of climbing?
No, I wouldn't say that. Usually, I do what I like, and that's it. It's not so easy sometimes. Living a normal life probably would be much easier, but you can't have it all. You can't have the security of a normal life and then do all the time what you want. I don't think I would have done it any differently.
When you say it's not so easy sometimes, what do you mean by that?
All the traveling can be tiring. Even if the vanlife photos look so nice on the Instagram, where everything's super neat and tidy, in the real world it's not like that—you would need to clean the place 10 times a day. And then the van breaks down, and since you're living in it, you have to sleep at the mechanic. Or you get stuck somewhere in the middle of nowhere because you drove into the mud.
It's hard, sometimes, but it's more fun. You meet people everywhere you go and you can share so many different experiences. I think it's really a nice way of living.
You've been climbing for three decades. What keeps you motivated after so many years?
In the beginning I focused on training and competitions, and then I put my energy into climbing outdoors. It was so good all the time, and I saw continuous progress in my own abilities. Now it's a little bit harder to progress, but I've found coaching to be rewarding.
When I coach other climbers and they improve and are happy, it makes me even happier. I feel the same. If they achieve their goals with my help, I feel like I progressed, as well. This feels even better than if I had just climbed something hard myself because I've done it a thousand times before.
At the moment, coaching keeps me motivated. I also like to bolt and make new lines. I enjoy the process, but it's even better when I see people climbing the routes, and they say, oh, it was such a cool line.
Luckily, with climbing there's many things to do and you can do different things each day. I think it's almost impossible to get bored.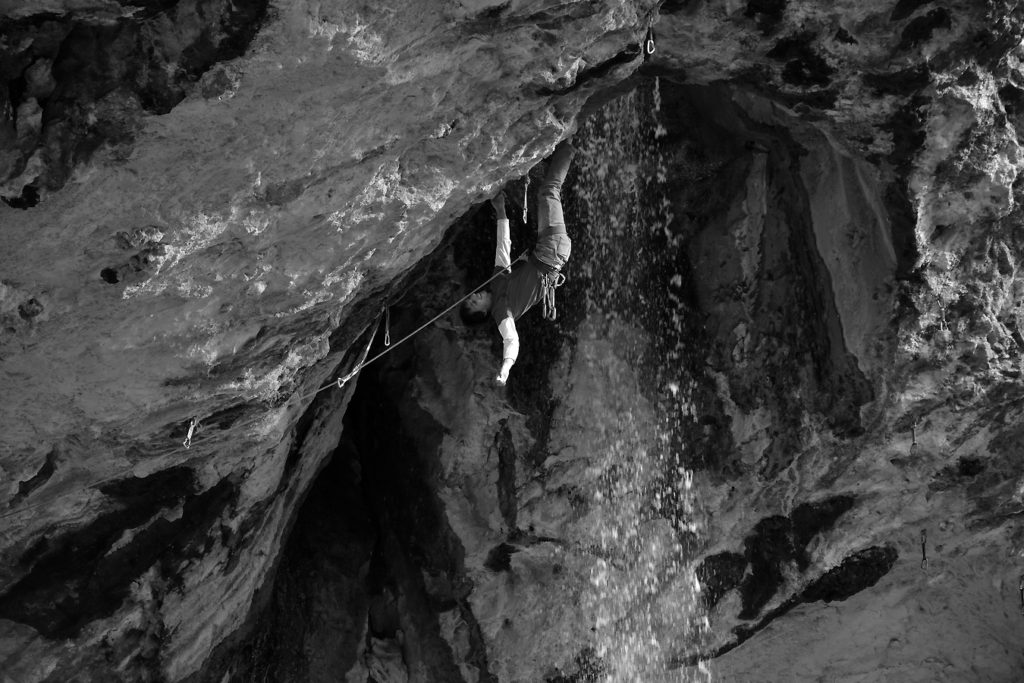 Do you have any current projects?
I just sent one last week, so now I have to figure out something new. I think I will just look around and make a new one. I already charged the batteries for my drill.
As someone who has traveled the world to climb, what are your favorite climbing areas?
Spain, Greece, maybe France.
We spend quite a lot of time in Spain, and lived there for two years, as well. So, we know Catalunya quite well, the south of Spain, as well. My favorite area is probably is Oliana, because it's perfectly my style—slightly overhanging and super long routes. I use this place every time I go to Spain to train endurance and get in shape, so after I can go to any project.
But there are so many climbing places in Spain, not only the popular ones, like Siurana and Margalef, but also some really cool, small places that nobody knows about, which are totally worth visiting. If you want to find these places, you need to just drive somewhere. Sometimes you will get lost or you will find some shitty crag and ask yourself why you drove for 10 hours to get there, but that's part of the adventure. It pays off most of the time, I would say.
In Greece, I like Leonidio and Kalymnos. They are touristic climbing areas—places you go not to project, but simply to enjoy the climbing, the food, the swimming, and stuff like this.
If you ever had to settle down in one location for the rest of your life, where would you choose?
At the moment, we are looking here in Istria because we are stuck and we kind of like the place, so we started to think, oh, maybe we could get a house here, it would be so cool. But, we've done this so many times before. We wanted to be in Briançon in France, we wanted to be in Spain.
In the end I think Slovenia is also quite a nice place because it's in the middle of all the climbing in Europe. You have a basecamp, and then you can drive anywhere you want. So maybe a basecamp in Slovenia or here in Istria, and then a big van to travel around—I think that would be good.
Where do you see yourself in the coming years?
First, we need to see what happens with the COVID restrictions, and then we will have to adapt. Our kid is still young, so we can travel. But then when he will go to school maybe we will have to stop a little bit. I don't know. We shall see.
What are some life lessons you've learned through climbing?
Have fun and don't stress too much. Always pack everything you need. And charge the batteries for the drill.