Beyond-Sight: Sho Aita
Blind Japanese Climber Sho Aita Onsights Jack and the Beanstalk (5.10c) Crack Climb
by tenaya
2023-04-27T16:56:31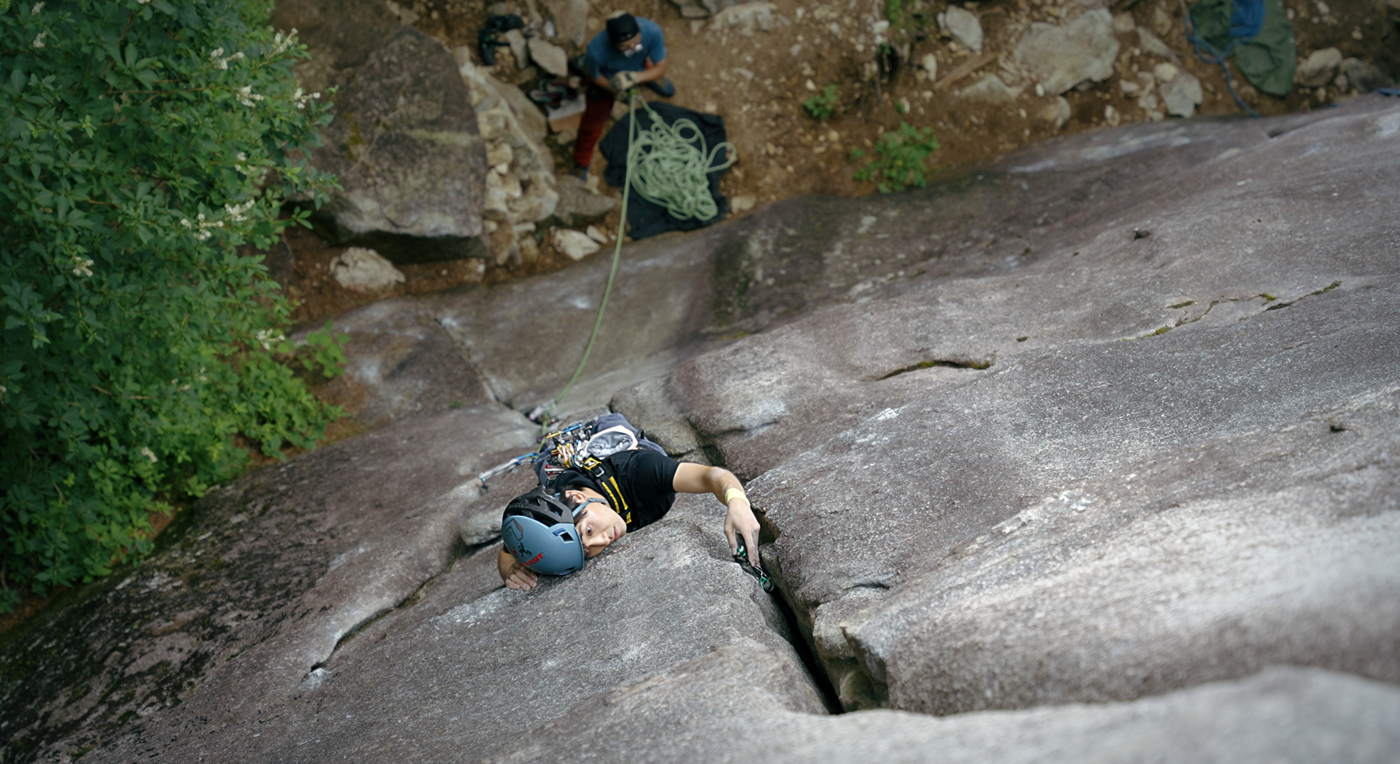 ---
When Sho Aita climbs, his guide Seiji Tanaka typically shouts detailed instructions for every move—the exact location of the next handhold, how to fine-tune a delicate foot placement, where to clip or place protection. It's a partnership built on communication, experience, and trust. Their rapport has led Sho, a 26 year old from Tokyo, Japan, to win seven gold medals in paraclimbing world cup competitions.
Sho Aita is blind. Which begs the question: Is it possible for a blind climber to onsight a route?
"My first impression of him was of a very shy person, and he didn't talk much about his ambitions. As I filmed more and more, I realized that there was something in his heart," says film director Yui Takahashi. "He came across as a competitor and I felt him saying, 'I want to climb as an individual, not as a blind climber.'"
In climbing, to onsight a route—or to lead it cleanly from bottom to top with no prior experience on or knowledge of the climb—is the pinnacle of achievement.
Sho wanted to onsight a route, without a guide, like a sighted climber could.
For his attempt he chose a crack climb because it would be simpler to navigate by feel. But that would come with the added challenge of placing protection on lead without being able to visually find and check placements. Moreover, he wouldn't even know the size of the crack, let alone the size of the gear he might need to carry, until he left the ground.
"Usually I rack the protection in ascending order," he says. "I check the size, and try to put it back in the same place in my gear rack as much as possible."
Sho climbs into the unknown. It's a tedious process of canvassing the rock within reach for every detail and moving with precision. It requires commitment. Never knowing the next move until he feels a hold and executes, it might just be the purest form of onsight.
Watch the film of his ascent, filmed and directed by Yui Takahashi, below.
Jack and the Beanstalk On-Site by Sho Aita:
Climber: 會田祥 (Sho Aita)
Instructor: 田中星司 (Seiji Tanaka)
Routes:
Casablanca (5.10a), redpoint
Jack and the Beanstalk (5.10c), onsight
Location: 小川山 (Ogawayama, Japan)
Director: 高橋由衣 (Yui Takahashi)
Cinematography: 高橋由衣 (Yui Takahashi), 宮澤響 (Hibiki Miyazawa)
Film director Yui Takahashi is raising funds to create another documentary film with blind climber Sho Aida, this time following his journey to the Paraclimbing World Championships in Austria. Visit motion-gallery.net/projects/climbing-shoaita to contribute to the crowdfunding campaign.
---